Sharing
I'm a day late for Earth Day, but no matter, I wanted to share this video and my thoughts about elephants. Check out the video
My Thoughts
Elephants are wise, they are much smarter than most people realize. They have deep family bonds, they also mourn their dead.  Pretty awesome!  They have memories that span many years, which is also a surprise to some people.  I believe that Ivory belongs to the elephants, but sadly so many are killed by poachers
 What a true waste of their life and such a disgusting way to decimate elephants. If the poaching keeps up, it could happen, how very sad.
I look at the eyes of an elephant and I see wisdom and feelings.  How anyone could kill them is beyond my comprehension.  I will never understand it.
So as I go through life, I do what I can to save the elephants, and save the animals in general. I want to "save the world".  I can keep trying, and I will.
Ivory Belongs to the Elephants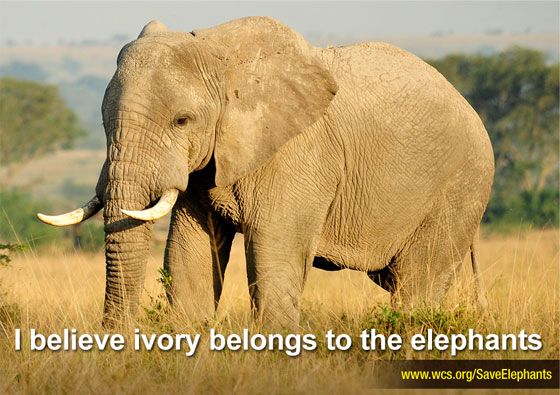 You Can Help
>Last year, poachers killed 35,000 elephants for their tusks. We're facing an all-out crisis. But we have a simple threefold strategy to save elephants: Stop the killing. Stop the trafficking. Stop the demand.
We're on the ground working with governments to protect elephants. We're supporting governments that prosecute traffickers. And we're educating the public about the bloody price of seemingly harmless ivory.